Discounts & Trade Associates
One of the UK's largest trade associations, the FTA (Freight Transport Association) www.fta.co.uk, has represented the transport interests of any company moving goods by road, rail, sea and air since 1889 to promote safe, sustainable and efficient logistics.
Representing and campaigning for their members the association also provides a range of training schemes and opportunities and educates on best practice and compliance with changes in legislation such as health and safety.
Whatever your requirement, speak to our team at David Gilkes Removals for an exceptional service and the most competitive prices in Warwickshire. Contact us today and we can arrange a no obligation survey and quotation with one of our friendly team.
NHS Staff Discount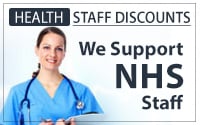 We are members of The British Association of Removers www.bar.co.uk.
Whether you are moving in the UK or to another country, choosing a BAR Member gives you the peace of mind that only comes from using a reputable, professional and financially protected remover.
BAR is the trade association for removal and storage services in the UK, it represents and promotes more than 450 UK removals companies (1,000+branches) as well as over 250 international Associates worldwide.
To become and remain a BAR member, companies in the UK must undergo a thorough inspection to ensure they meet the required level of professionalism and service we demand of our members. This includes adhering to our Code of Practice, providing an Advanced Payment Guarantee and offering a Dispute Resolution Service, so that anyone instructing one of our Members to carry out a move or store their goods, can rest assured they've made the right and safe choice.
Senior Citizen Discount
We also offer a 10% discount to all senior citizens. We provide a lot of support to local councils and their decant moves. Therefore, we understand the need for a stress free and cost efficient move to suit the budget. We can offer a discount on all packing services, removals, storage solutions, even an unpacking service.
FSB
As experts in business, FSB offers members a wide range of vital business services including advice, financial expertise, support and a powerful voice in government. Their aim is to help smaller businesses achieve their ambitions.
We now support the NHS. All staff are entitled to a 10% savings on all of our services.